We currently have seven new novels available. They are described below.
---
Man in the Mirror:
A man finding himself as he loses himself to Alzheimer's
by Zoe Murdock
What goes on in the mind of a man succumbing to Alzheimer's? Zoe Murdock does a masterful job of portraying that in her new novel, Man in the Mirror. But it's more than an Alzheimer's story, it's the story of a man trying to hold onto the memories that shaped his life. As his memory begins to fail him, more than anything, Aaron Young wants to live a free and natural life like he imagined it would be when he was young. If only he could recapture the deep significance of his experience in India during World War 2 when he flew on dangerous missions "over the hump" of the Himalayas into China.
Although Aaron is with those who love him and want to care for him, whenever he gets the chance, he runs away to his isolated hideaway in Southern Utah's red rock country. It is the one place where he can be himself and not have to worry about people trying to cage him in.
Man in the Mirror is a captivating story with a lot of drama and plot, but it is also a deep contemplation of what it's like to be losing yourself to Alzheimer's.
---
<!-My Vietnam War Start -->
My Vietnam War
by E.E. "Doc" Murdock
Writers have been writing about war since the siege of Troy, but few, if any, have captured the first-person experience of war as deeply and intensely as My Vietnam War. Set in 1967 (the deadliest year of the Vietnam War), this memoir-style novel depicts the psychological journey of a young man whose carefree days of studying philosophy at the university are ended by the draft. The story follows him from his initial rear-echelon assignment in Saigon (where he falls for a mysterious storytelling bar girl) to his eventual posting at an isolated front-line firebase deep in the Vietnam jungle. While recovering from a leg wound (he is hit by a piece of bone from a fellow soldier who stepped on a booby-trap mine), he becomes the assistant medic and sees the horrors of war close up. The experience begins his steady spiral down into PTSD. After he is seriously wounded, he ends up back in Saigon where an old friend from Arizona gets him involved in the underground drug trade. In the end, the mysterious storytelling bar girl may be his only hope for salvation. It is a powerful story, well-written, with vivid detail that you will never forget.





<!- My Vietnam War end -->

---
Torn by God
A Family's Struggle with Polygamy
by Zoe Murdock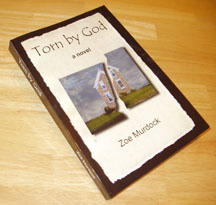 Zoe Murdock's riveting family saga, Torn by God is a story inspired by true events. In 1959, in a small Mormon town in Utah, the story chronicles the devastation brought upon the Sterling family when the father has a vision which leads him to become involved with a local polygamist group run by a self-serving fundamentalist. The father comes to believe that the Mormon Church never should have rescinded polygamy. Even though the practice is now against the law and grounds for excommunication, he feels it is something God demands of him. Twelve-year-old Beth watches helplessly as her mother sinks into depression and illness. When her father leaves town to build a church for the polygamists, the family is cast off by the Mormon community and it is up to Beth to take care of her sick mother and her little brother. The story delves deep into the controversial association between mainstream Mormons and fundamentalist offshoot groups such as those led by Warren Jeffs. It explores the power of indoctrination and religious control.
Click here to LOOK INSIDE Torn by God: A Family's Struggle with Polygamy
---
<!- Pain Artist Start -->
Pain Artist: An American Hikikomori
by E.E. "Doc" Murdock
The Pain Artist is a dark psychological novel about a young man who, after being abandoned and left homeless, is forced to move in with his invalid grandmother who lives in a gang-infested neighborhood of South Central Los Angeles. Crippled and in constant pain, he becomes a self-described Hikikomori (a Japanese term for young men who withdraw from society to live mostly on the internet). The novel explores the horrific challenges of today's inner-city youth. From the chilling opening, to the existentially alarming conclusion, you will be carried along with the angry, but compassionate, young protagonist on his journey of learning and self discovery. It is a powerful story, incredibly well-written, with vivid detail that will affect you whether you want it to or not.





<!- Pain Artist end -->

---
<!-Cock Robin Harp Book Start -->
A Psalm for Cock Robin
A Harp and His (Dead) Mother Mystery
by E.E. "Doc" Murdock
A Psalm for Cock Robin is the most innovative murder mystery you will ever read. It features a gentle young man named Harp who lives under the Santa Monica pier after he was accidentally released from a mental hospital. When he wakes up one morning to find another homeless man lying dead right next to him, he runs away but soon becomes the main suspect in the murder. Harp must find the killer before the police find him. Sound like a familiar murder mystery plot? Not really. Harp is clearly not much of a detective, but his caustic, sarcastic, Bible-quoting mother is. The only problem is she's dead. But when Harp gets into trouble, she comes into his head to guide him (and harass him) as he searches among a wild assortment of Venice Beach crazies for clues about who the murderer might be. She becomes a sort of second protagonist, always there in Harp's head to keep him on the straight and narrow (often by quoting the grimmest of Grimm's fairy tales, the only thing she let Harp read when he was a child). As weird as this book may sound, it's actually very funny. You'll find yourself laughing out loud, whether you want to or not. It's a classic murder mystery (but with a postmodern twist), one you'll never forget.

Click here to LOOK INSIDE A Psalm for Cock Robin



<!- Cock Robin Harp book end -->

---
Crueltown
A Drew Steele A Los Angeles - Las Vegas Mystery
by E.E. "Doc" Murdock
In Crueltown, LA detective, Drew Steele, takes on a new case while still recovering from life-threatening wounds he suffered in an IED explosion in Iraq where he was working for "the company" as a private contractor. The doctors told him he would never walk again, but he proved them wrong. After multiple surgeries, he is able to walk again using a high-tech prosthetic foot (which provides a convenient place to hide a tiny gun). Although he walks with a limp, don't call him a cripple; he's still one of the most successful and sought-after detectives in LA. His first case back in LA seems routine - a missing Las Vegas casino boss - and unrelated to what he was doing in Iraq, but the case turns decidedly dangerous when the missing man turns up dead with a strange message burned into the flesh of his forehead. When the autopsy reveals a grisly surprise in the dead man's stomach, Steele suspects it was put there to suggest the murder is somehow connected to drug trafficking in Crueltown, the criminal hideout in a toxic swamp near the LA-harbor where police are not allowed. But is Crueltown really at the center of this mystery, or is it one of his old enemies trying to draw him into a deadly trap? Crueltown is a Noir murder mystery that pits two brilliant minds against each other in a life and death struggle against a backdrop of the darker side of LA and Vegas.

Click here to LOOK INSIDE Crueltown


<!- Crueltown book end -->

---
The End of the Civil War
A Drew Steele Civil War Mystery by E.E. "Doc" Murdock
The End of the Civil War is a fast-paced western/murder mystery/war story that plays out in the American West soon after the supposed end of Civil War. It asks the question, what would happen if some Confederates had refused to give up and instead moved West to form alliances with anti-American militants?

The story begins when a Confederate general known for his ruthless tactics in the war suddenly appears in the West along with his loyal company of Confederate soldiers. When the general begins to wreak havoc in California and Arizona, famous San Francisco detective, Drew Steele, is hired to be a go-between negotiator to recover hostages. The cat-and-mouse game that ensues leads from California, through Mexico, and into the mountains of Arizona. It pits two brilliant minds against each other in a life-and-death struggle against a backdrop of spectacular Western scenery.

Click here to LOOK INSIDE The End of the Civil War


<!-End of the Civil War end -->

---
Who Owns Arizona?
A Drew Steele Civil War Mystery
by E.E. "Doc" Murdock
Who Owns Arizona is a murder mystery set in the American West during the traumatic post-Civil War period. This fast-paced story has more twists and turns than a runaway river in flood stage.

The story begins in San Francisco when Drew Steele, a Civil War-veteran turned detective, is hired by newspaperman John Rudd to go to the Arizona territory to find a long-lost Spanish land grant that supposedly lays claim to the entire Arizona territory. Murders ensue, and Steele suspects the motive for the killings may be related to the missing Spanish land grant. Steele confronts hired gunslingers, marauding Indians, and a number of beautiful (but dangerous) women as he searches for an illusive and exceptionally clever serial killer.

Click here to LOOK INSIDE Who Owns Arizona



<!-Who Owns Arizona end -->

---
---
How To Write Fiction:
Tools and Techniques
by E.E. "Doc" Murdock

In How to Write Fiction, Professor E.E. Murdock, an award-winning California State University teacher, has developed an entirely new approach to the teaching of creative writing. Step-by-step, Dr. Murdock takes you through the creation of his original example stories, stopping to discuss each writing decision as it occurs. He explains how each technique works, and he shows you how to keep readers vicariously involved in the progression of the story. His set of very effective fictional tools and techniques will help you create powerful stories that will engage readers from beginning to end. Even if you are not a writer, you will enjoy reading his example stories (the stories alone are worth the price of the book); you will find yourself intrigued to learn how stories are created (it's a behind-the-scenes look at how a professional writer works).
Obama Won, but Romney Almost Was President:
How the Democrats Targeted Electoral College Votes to Win the 2012 Presidential Election by Everett E. Murdock PhD

On November 6, 2012, voters went to the polls to vote in the most highly contested (and most expensive) presidential election in U.S. history. There was more attention paid to a few so-called "swing states" than ever before because the politicians finally realized presidential elections are won or lost in the Electoral College, not in the general election. This book, written by a college professor, analyzes every presidential election in the country's history with special focus on the role played by the Electoral College. Dr. Murdock describes how duels and scandals and wars and secret deals contributed to a win or a loss for presidential candidates throughout U.S. history. He provides fascinating details about how the Electoral College was created at the 1787 Constitutional Convention as a compromise with the slave states and the smaller-population states, and how it has distorted the election process ever since. He also describes how the election process has evolved, how political parties have learned to target Electoral College votes and ignore the popular vote in most of the states. Professor Murdock also analyzes, in detail, the tactics used in the presidential election of 2012 and predicts how its outcome will influence all future elections.
Click here to LOOK INSIDE Obama Won, but Romney Almost Was President at Amazon.com
---